First Team & Team Kids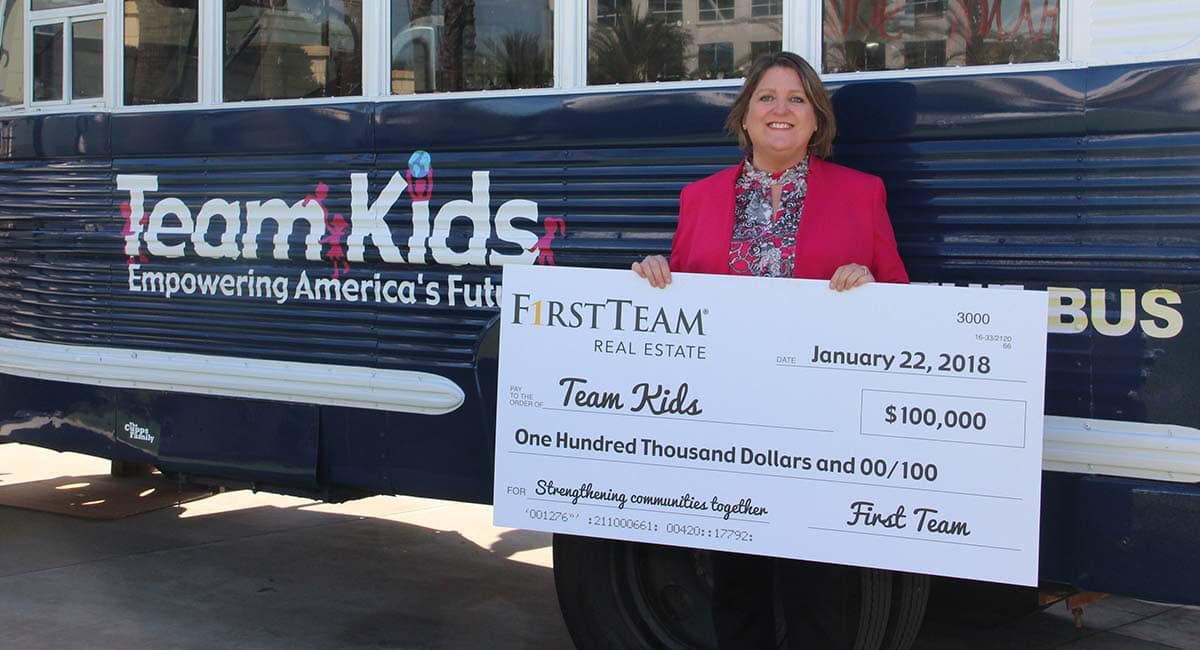 We share more than just 50% of our name with Team Kids, we share a vision for strengthening communities through service and compassion. As Team Kids Ambassadors, we're leading efforts to serve in our communities and fundraise for Team Kids.
Through our partnership with Team Kids —called the Team Kids Superhero Program—real estate agents serve as mentors to children in their communities, guiding them through various challenges that allow them to make a difference and earn recognition for it.
"Through the Superhero program, kids will be presented with challenges to complete, such as bringing blankets to an animal shelter or writing a thank you note to someone in the military," Hudash explained. "Once they complete these challenges, the real estate agents will present them with certificates thanking them for their contributions and for helping to make their own community a better place."
The Superhero Program, and our affiliation with Team Kids, is part of our organization's overarching mission to make a difference in the communities we call home.
Testimonials
" We needed to sell my Mom's home in Norwalk that she lived in since about 1963. And we needed to sell quickly to help pay for Mom's Long Term Care. Not knowing what realtor or company to choose, I went on the internet and selected Josie Andrade with Berkshire Home in Norwalk. It must have been my lucky day. Upon meeting Josie, I found her to be very knowledgeable, very gracious, easy to talk to; and above all she was very patient with the many questions I asked. I couldn't have found a better person to assist in selling my Mom's home. The first Open House landed us with the Buyer for Mom's home. I really appreciated the way Josie kept me up to date throughout the process. If anyone is looking to sell or buy a home, I would highly recommend Josie. She made the experience for us easy and pleasant with her expert guidance. Her staff in the office Sandra and Melody also were great, and very helpful. "
- Mary H.
" I am forever thankful for Josie and her team, they definitely went above and beyond to make the process of purchasing a house fast and easy. I would 100% recommend to my family and friends. "
- Alejandra R.
" Josie isn't a real estate agent nor is she just a realtor - she is a trusted advisor. She's a true professional at what she does and loves it! We connected in 2016 after she helped relatives purchase homes and even though we didn't purchase until 2019, she remained available - willing to advise. She delivers a sales experience - understanding your needs and delivering the solution - like no other and we're glad we chose her. Also, her team and partners are easy and great to work with and not to mention our loan officer is a former Cavalier (HAIL TO THE RED AND BLUE)!! If you need a team that's going to go all in, we recommend Josie Andrade & Associates!! "
- Deon M.
" My family and I have known Josie for about 13 years now. Josie helped me and my family purchase our first home in October of 2009. Josie and her team were very patient and helpful during the whole process. We have referred Josie to multiple friends and family members. She has found the perfect home for the people we have referred to her. She is currently helping my girlfriend and I find a home of our own. Josie and her team are very attentive and will answer any questions you may have. Buying a home is a big step and that's why you should trust Josie Andrade. "
- Erick C.
" We have used Josie many times and it is always a great experience. "
- Gregory P McDaniel
" Wow 20 years ago Josie, sold us our first home. We were so happy to be in the city and the area we wanted to be. Now my parents have gotten a little older and we all decided to get closer to my work and family. (Sister) Josie, helped us put our house on the market. We got a few offers the very first weekend it listed. A few challenges thru the process of getting qualified to buy our next house but Josie and her team guided us to repairing our credit. (Credit Repair) After accepting the best buyer for our house we right away starter looking for our new house. We found the house we wanted and Josie suggested we close our escrow so we may have a better chance to get our offer accepted. We were very worried but doing that but Josie, had a plan and she assured we will not be left out in the street or worst with two mortgage payment. Again, we were scared but Josie, continued to assure us that everything will work out just as planned. Emilio, worked with us to go out and look at houses he helped us in making the best decision on the right house for us. Both my parents and I saw that he was most honest and we can tell that they wanted what was best for us and didn't just sell us any house..Yesterday, we closed escrow for the new home. Josie's plan worked and we got the house Mom really wanted. My dad got to pay off Debt and still we have more money coming. I am very happy with our experience and most of all my Mom and Dad are also very happy. "
- Daniel Ross
" Joise sold 3 of our homes! 2014 ,2016 and 2019. Josie changes the standard definition of Relator. She spent hours listening, educating and giving us recommendations for our fix it list months before she knew we would be ready to list our first home. She had a list of tradesmen at fair prices that I have used for all 3 homes we have lived in. She even sent us records we would need before tax season in case we misplaced the originals. Josie and her team are professional, responsive, honest, and highly motivated. Everyone says my standards are too high. Josie standard are even higher. If you want an excellent Relator working for you, choose Josie and her team. "
- Diana M.
" Josie y su equipo tan profesional nos ayudó a hacer el sueño de comprar nuestra primer casa una realidad. Siempre atenta, cordial, disponible y asertiva. Nos hizo sentir comodos y seguros a la hora de tomar una de las decisiones mas importantes de nuestras vidas. Gracias Josie, la mejor sin duda. Mi familia y yo la recomendamos 100%. "
- Miguel Angel H.
" Real estate professionalism at its best! Josie and staff managed the sale of my parents home with grace. It was a very delicate situation for my elderly parents due to limited physical abilities, but Josie sold their house with finesse. Unequivocal loyalty and end result of our business experience is a friendship. "
- Joe V.
" Josie and her team have always been a first class act! She's sweet, a great communicator, knowledgeable and someone you can trust with your asset. Josie will always be the first name I refer for your home needs! "
- Orlando G.
" Josie is an amazing realtor that I've had the pleasure of working with. She's always ahead of the game and extremely knowledgeable. She's ready and on the go. Her and team are always on top their files and deadlines. I would highly recommend her to anyone that is looking for top notch customer services. Josie, Hope to work with you soon! "
- Anna V.
" Josie and her associates are great, they helped us get exactly the investment property we were looking for, she helped us make informative decisions, it's was a long rough process, after like 10 or more offers, she stuck with us and we closed escrow, remodeled and put the place up for rent . We couldn't be happier "
- Maripsa Bernal
" Josie Andrade and her team are wonderful and very helpful during the entire process of purchasing a home! Josie first helped my parents buy a home years ago and she was great then hence why my sister and I knew we could trust her and had to have her as our agent to purchase a home. Throughout this whole process she explained every little detail and answered any questions we had along the way, she didn't pressure us about any of the properties or decisions if we didn't seem convinced with them and that really shows she has your best interest. Josie and her team were great at communicating with us especially with a pandemic happening, they reassured us that we were making the right decision and answered our questions quickly. They were a pleasure to work with and we would definitely use Josie and her team again and recommend them to anyone trying to buy a home! "
- Anahy Fuentes
" I had the pleasure of working with Josie and she and her team are one of the most professional and very knowledgeable teams out there. Josie gets the job done! I love working with agents like this. Thanks Josie! Hope to work with you again! "
- Anna Valladares
" I cannot say enough great things about Josie and her team! Josie helped my husband and I buy our first home, she not only made the process feel easy but educated us along the way. She truly wants to see your family prosper! I have already recommended her to my brother who is starting the process of buying his first home with Josie. Take a chance with Josie, you will not regret it!!! "
- Corina P.
" Josie was transparent, honest, and the reason why we are home owners today. She worked extremely hard and went above and beyond on making sure we bought the right home for us. As first time buyers, we had many questions and hesitations about the process. She couldn't be any more patient, and resourceful. Glad she was on our side during the whole process. "
- Martin M.
" Purchasing a home can and will be the most exciting, but yet most stressful moment in your life. However, the process can be easier when you have the right team. Josie and Associates went above and beyond to assist me and my fiancé purchase our first home. We recently closed escrow (April of 2020) and Josie was extremely helpful, professional, and she literally went 100 miles an hour to make us home owners. Josie has a wonderful team which includes a loan officer, Jorge Gonzalez who made the process easy and smooth. Definitely recommend that you give them a call if you are in the market to buy a home. Josie will definitely fight for your offer to get accepted in a market that is becoming really competitive. "
- Christopher C.
" We have never had a better experience in selling a home than we did with Josie. She is very professional, yet makes us feel like friends. She was on top of everything - from staging our home to all of the paperwork and necessary phone calls. Our open house was wonderful, and from the time we engaged Josie to the final sale and move-out, she was always available and always did exactly what she promised. Josie made our move easier than any we have ever done. Josie is the best - thank you for all you do! "
- Kitty T.
" Josie and her team get the job done! Josie is very professional and straightforward. I appreciated that I could always get a response to my questions and concerns in a timely manner. I needed assistance getting dependable contacts to prepare my home for open houses and showings. It was great to get word of a promising offer less than two weeks after it went on the market! The inspection and escrow process went smoothly as well. If you're looking to sell and/or buy a home, I recommend contacting Josie Andrade and Associates! "
- Tracey Daggy
" We have been knowing Josie Andrade for about 3 years now was referred by my cousins friend her family had bought a home and she was her realtor so she came highly recommend. So we decided to work with her 3 yrs back we were looking and we where so excited to get process going her staff is very knowledgeable got the pre approval from her lender but unfortunately my husband got hurt so we had to place everything on hold. Fast forward 3 yrs later Since we were renting the landlord decided she wanted to sell the house so we had 60 days to vacate all of a sudden so this time we were limited on time and since things were moving so fast the landlord told us about her realtor so we started the process with her it was our biggest mistake this realtor which will remain nameless was so slow to put in a bid will take her five days to do so we lost two homes since I know we are in a very competitive market. So I was fed up. I decided to to call Josie Andrade told her my situation what was going on and the sweet person she is she was on it got the ball rolling her team was on it needless to say we got in our first purchased home thanks to Josie and her team in 32 days the process was done so easy made everything so effortlessly. I would highly recommend Josie Andrade and associates 100% I would definitely work with her again and refer any friends and family to her she knows her stuff and she's always on it. We are so grateful and blessed that we continued with Josie and Associates. "
- Beatriz Salazar
" Josie Andrade is a very conscientious, personable real estate agent. She provided valuable guidance during the sale of my home. I was very happy with the price she suggested and would highly recommend her. "
- Janet Guerra
" My husband and I couldn't be in better hands when it came to purchasing our first home together. From the beginning to end, Josie went above and beyond. She gave us updates on every step of the way. When you are a first time buyer, you need that assurance and information and Josie was always there for us. We were blessed to have Josie and her perfect team guide us through this process. Josie was always accessible to my TONS of questions; mostly 24/7; Her dedication and commitment when it came to finding the perfect home for us; and even during stressful times, just offering to hear me out. She is truly the best and what she does! "
- Amanda Avalos
" Josie Andrade has been my Real Estate Agent for many years and has always exceeded my expectations! She listens and understands your unique situation, whether it's your first home, an upgrade or the purchase of a rental property. I would never make a move without calling Josie first. She will walk the neighborhood and talk to the neighbors in addition to checking all the comps to get the best deal for her clients... Additionally, her team is fantastic. She holds them to the same high standards she holds for herself and they deliver!! "
- Denise B.
" If there were 10 stars I'd give them all to Josie, Rene and the entire team!! If you've tirelessly looked for a true, talented team of realtors and have been turned away with no hopes or a crushed dream- look no further because this team was genuinely a stellar above and beyond team who really do make dreams come true. My mother spent 10 years dreaming of being a home owner, recycled through 8 realtors, went through numerous applications, loans and documents only to be rejected or ghosted. With the help of Josie, Rene and their service- they were able to seamlessly provide an opportunity and we became successful first time home owners. I cannot recommend them enough- they connect with their clients, they follow up, give clear direction to what is needed, provide support every step of the way and encourage you to positively look forward to a home you've always dreamed of! This is the dream team, no matter how small, how big your goals are- they make it possible. We are at tears in our new home and will forever undoubtedly remember Josie, Rene, Dora, Sandra and the entire staff. It has been truly a wonderful Christmas miracle! "
- Perla S.
" Owning a home had been my dream for so many years, and Josie made that dream come true. Josie, Emilio and their entire team are simply amazing! Josie is very professional, knowledgeable and great negotiator. The house I bought received 5 offers and honestly I was worried that my offer was going to be rejected. However, Josie personally contacted the seller's agent, prepared a better offer, built a strong relationship with them and negotiated a great deal for me. Thanks to Josie's work, I was able to make the purchase. Thank you Josie and team for your incredible work. I'm thankful to my friend Mayra who recommend me your services. Now I can certainly recommend you with my family and friends. "
- Vero G.
" Josie Andrade and Associates – Where do I begin? My family was in a place where we had to move and we went with Josie and her team to assist us. She had worked with other family members with whom she had a 20+ year history, helping them to buy two homes over that period. So her reputation was already established personally. I know other brokers that I could have worked with, but my wife and I decided to go with her. When we started, we weren't even sure if we could get a home, but she made it happen. She proved herself to be a tireless, driven, intelligent expert in the business who will work hard for you until the job is done. She is realistic about what can be done, but will also make sure you get the most for your money. She works with lenders that also deliver at the highest standard and will do everything they can to make sure you are pre-qualified and know exactly want you can afford. She will teach you not only about the home-buying process, but the local real estate market so be ready to learn :-). Emilio also worked with us and stepped in seamlessly to assist us when necessary. If there are any special programs you can take advantage of, she will let you know. They are connected with professionals if you require physical work, who are ready with the same professional and affordable standards. 5 stars, gold star, platinum, whatever the top mark is, she gets mine. You will only go right with Josie Andrade and Associates. "
- Ryan Whetstone
" Just want to say thank you to you both for putting so much attention to our home and making sure this process is as transparent as possible. You're both absolutely wonderful to work with and on that note, have a great weekend and looking forward to next week. Thank you to the both of you, dearly. This process has been such a joy. Fun, exciting and a slight hint of stressful. You both are clearly Titans of your industry and it shows. Glad to be a part of your team. "
- Alex Macy
" Haven't worked with too many realtors. Josie and her professional staff makes me want to look no further. If you want your dream home, call Josie. "
- Hector G.
" What more can I say Josie has been the best help the best solution and I've got the best results Josie and her team rock it!! they know what they're doing they know what they're talking about and they know how to help in every single situation thank you so much to you and your team josie for everything you've done for me and my family blessings and best wishes "
- Ivan Rojas
" Josie helped us with the purchase of our first home last year Aug 2016. She is the BEST realtor in the business!! If you want to buy or sell a home you will totally benefit from her knowledge and expertise. She is very professional but also gives you the sense that you are working with a family member or friend. She would always call me back and answer all my questions (even the ones I would send her at 6am). Unfortunately we didn't begin our search with her. We wasted our time with a different agent for about 6 months and were honestly beginning to think that being a homeowner was not in the cards for me and my husband. Just as we were about to throw in the towel a family friend referred me to Josie. Turns out Josie had help her entire family with the purchases of their homes!! I new from the first meeting with Josie that we were in good hands. She has an amazing team behind her and within 2 months we were purchasing our first home!! I absolutely recommend Josie to anyone that is thinking of purchasing or selling a home. Buying a home is probably the biggest purchase you will ever make and having an honest hardworking realtor by your side that you can trust is so important for your success! Give her a call, you will see the results! "
- Claudia H.
" Before I leave my review on Josie Andrade and Associates let me just say that I hardly ever leave reviews. I have found that the service must have been exceptional and have completely gone out of there way in providing a service for me to leave a review. So with that said, my experience with Josie Andrade and Associates was beyond exceptional. My husband and I had a smooth process with our first home buying. Buying a home is a big step and I had a million questions. Josie had answers for all my million questions, she is very knowledgeable, and very experienced. She always took the time to explain every move. She is honest, a good listener, and treats you like more than a client. We where very comfortable and where at ease with this big step in home buying. Her staff always kept us updated and where always available to speak with if need be. Her entire team was a pleasure to work with and will recommend to anyone. I know who I will be calling on my next real estate need. "
- Amber R.
" Josie is by far one of the greatest existing Real Estate professionals. Working with her and her team is always a pleasure. I can confirm and vouch how important Josie's clients are to her. She is very genuine, goes above and beyond to provide her clients with exceptional service. Lisa Hurtado "
- Lisa Hurtado
" 100% professional! Josie definitely knows what it takes to sell a house! As good as she is, what I really appreciate is her willingness to help answer any questions about anything relating to real estate even if it does not directly involve her selling or buying a home in her area (we moved out of state)! It has been over a year since she sold our house and to this day she is still helpful! Thank you Josie! "
- David G.
" Estamos muy agradecidos con el equipo de FirstTeam por su gran labor y apoyo durante la compra de nuestra casa . A Josie y a Emilio nuestro eterno agradecimiento por su esfuerzo ,paciencia y profesionalismo , son excelentes personas y siempre estuvieron ahi para resolver nuestras inquietudes logrando asi que el proceso de compra fuera mas facil para nosotros ,gracias infinitas a los dos y espero Dios ilumine su camino para que continuen haciendo tan excelente trabajo . "
- Diana Martinez
" Josie Andrade was referred to me by my niece and I'm glad I listened to her. As a new home buyer I was intimidated by the process and knew I would feel clueless of a lot of things that would come up in buying home. From day 1 when I spoke to Josie Andrade she put me at ease and explained in detail of the process. Josie & her team were by far phenomenal throughout the whole process and stayed a step ahead of everything. Josie and her team kept the ball rolling at all times and kept me well informed from start to finish. Very professional, very knowledgeable. Josie & her team will go above and beyond to get things done. I never ever heard anyone in her team say "NO" we cannot do that for you or it can't be done. That was never in their vocabulary. I would highly recommend Josie Andrade & her team 120% . Don't think twice about her team Please do me a favor and call her you won't regret it. Josie Andrade my respects for you . Your AMAZING! Thank you & your team for making our dream come true. "
- Jackie Juarez
" Josie Andrade has been my Real Estate Agent for many years and has always exceeded my expectations! She listens and understands your unique situation, whether it's your first home, an upgrade or the purchase of a rental property. I would never make a move without calling Josie first. She will walk the neighborhood and talk to the neighbors in addition to checking all the comps to get the best deal for her clients... Additionally, her team is fantastic. She holds them to the same high standards she holds for herself and they deliver!! "
- Deborah Denise Benavidez
" Josie provided a high level of assistance to me and my brother in selling our childhood home. She was able to guide us in getting the home ready and managed the contractors in doing the work to prepare the home for sale to obtain the best selling price. She was always supportive and with her high level of working knowledge of real estate she was an asset in navigating the process during some very demanding changes in the market, i.e. Corona virus. I would highly recommend her to support sellers and buyers. "
- Lloyd Clark
Previous
Next